Archives for March 2020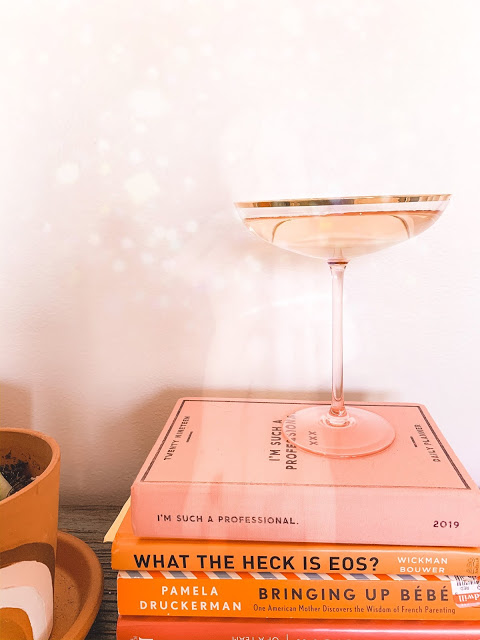 A realistic subtitle for this article: How to Not Strangle Your Significant Other and How to Survive Working From Home for the First Time.
Put on something other than the pajamas you slept in. Read as: "fresh sweatpants encouraged." Even if you are working in your cozies, a fresh set of clothes after you roll out of bed will get you more motivated and in a productive mindset.
Try to keep a routine. Wake up and walk the dog when you normally do, have your coffee, and start your day. Make sure you use a cue that leads you into your desk chair to start your day. For me, it's after I finish my cup of coffee. I then move from the couch to my workspace.
Eat a wholesome lunch. I find that I'm very productive when working from home and it's easy to forget to eat when I'm on a roll. Breaks will actually increase your productivity and may help you build out ideas. AKA the best feeling ever.
Set boundaries. Pop in your headphones or close your door to create the work environment you're used to. Pup snuggles totally allowed and encouraged.
Prioritize your tasks. The day before, write down your top five or six tasks, then a secondary list of six tasks you'd like to get done. On the day of, assign a time to each type of task, and batch work all of it into the one time block. When your timer goes off, move along. What you don't finish goes on the list for the next day.
Get some fresh air. Eat outside or take one of your fifteen minute breaks while walking your neighborhood. Fresh air can work wonders for clearing your brain.
Set up your work environment or at-home office and only use it for work. You may use the same computer for work and personal, but when it's at your desk, it's work use only. When it's in your lap and you're sitting on the couch, it's for personal use only.
Take your sick days if you need to. If you're a freelancer, it's hard to get away from the mindset that "time is money", but it'll pay off in the long run when you take care of yourself.
Over-communicate rather than under-communicate. Without a ton of face to face time, it's important to make sure you're communicating ideas thoroughly.
Keep a positive tone to your communication. This ties in with the previous point. Be cognizant of the tone of you writing and phone communication and keep it positive. Coworkers will usually not have as much contact with you, and it's easy for them to get the wrong impression.
Just as you signaled the start of your working day with a routine, try to end it with one as well. This signal to yourself can be as simple as logging out of your work email, or taking 30 minutes to put your phone on "do not disturb" while you walk the dog. It's necessary to set this type of boundary so you don't get burnt out.
The short story is that I'm one of those people who has a hard time turning my brain off or switching channels when the work day is over. Sometimes that's ok, but when working from home with James, it's not great. I hope some of these tips will help separate your work day from your personal life so we can all stay happy, healthy and cozy in our own homes.
PIN THIS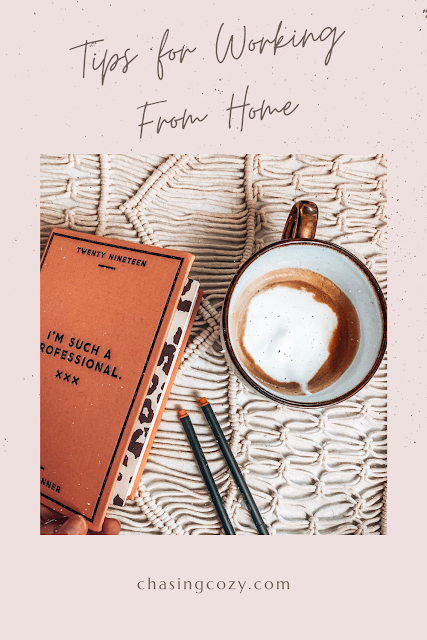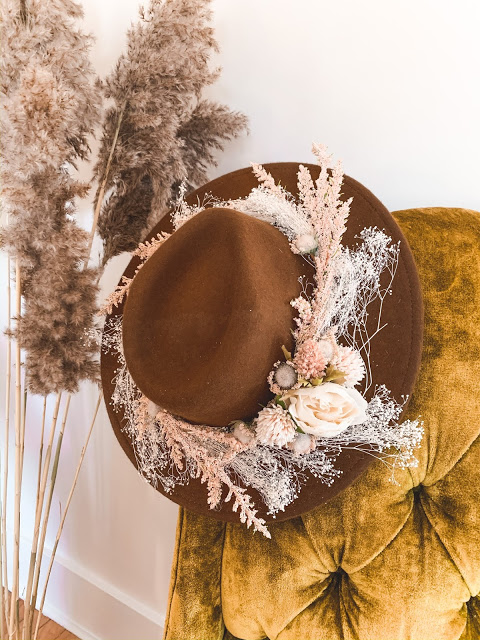 Flowers are the classic accessory. From the traditional bouquet or corsage, to flower crowns and flowers in your hair, they're not going away any time soon. Lately, I've seen nature's perfect accessory adorning boho wide-brim hats galore. I am HERE FOR IT.
I picture wearing these hats for wedding festivities like bachelorette parties and bridal showers. You'll catch me donning mine with the baby bump this spring.
This DIY is short, sweet, and is a great outlet for creativity. You can customize your hat for a minimalist or maximalist look. DIY below!
SUPPLIES
Hat
Floral Wire
Assorted dried and silk flowers
Wire snippers
Glue gun
I bought all my supplies here.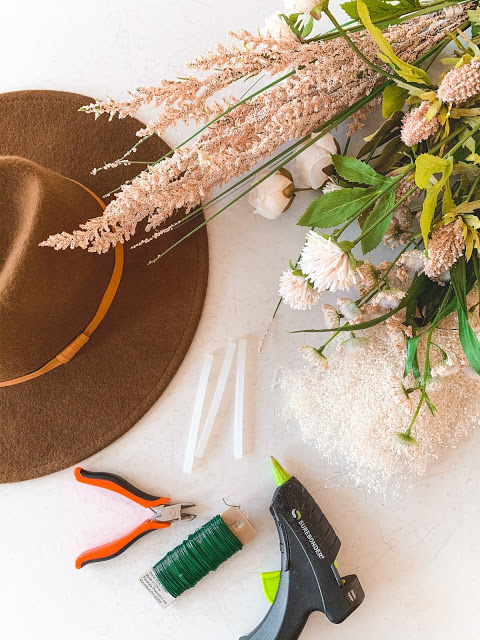 STEPS
Use the floral wire to create a circular "wreath" shape around your hat. Then, wrap it several times, twisting the ends around for extra stability. I made mine a smidge looser so it can be removed without damaging the hat.
You'll start with your base flowers. Wrap a single layer around the hat and securing them with small pieces of floral wire to the "wreath" you created. No need for perfection. It's easy to go back and layer in where needed.
Next, add in other flowers on top of your base layer. I prefer to mix different textures. You can stick with one pop of color of go with a more vibrant color pallet. I used the floral wire to attach most of these, then hot glue to attach the smaller detail flowers. If you want to be able to remove your flower wreath form your hat, make sure you don't get glue on your hat.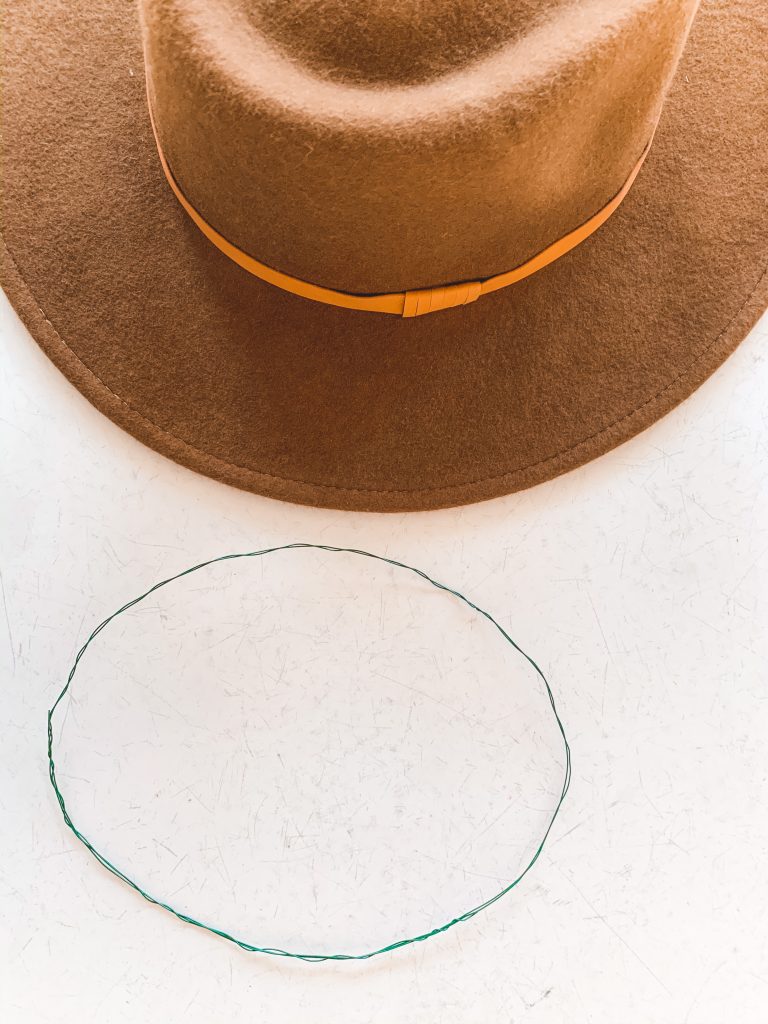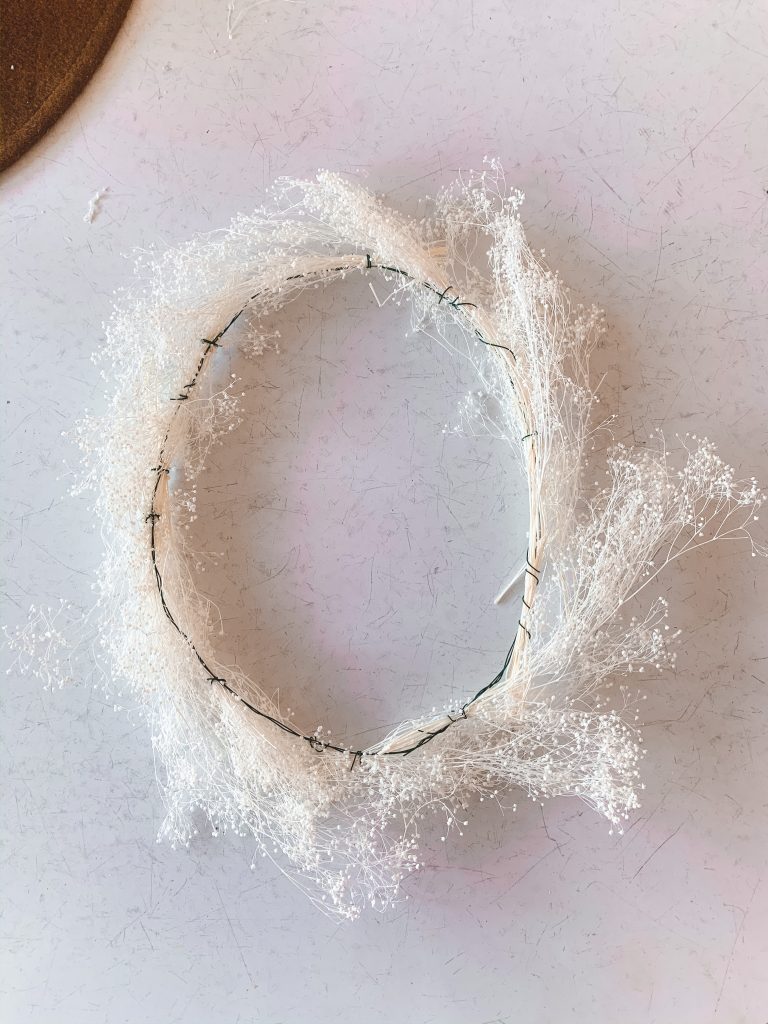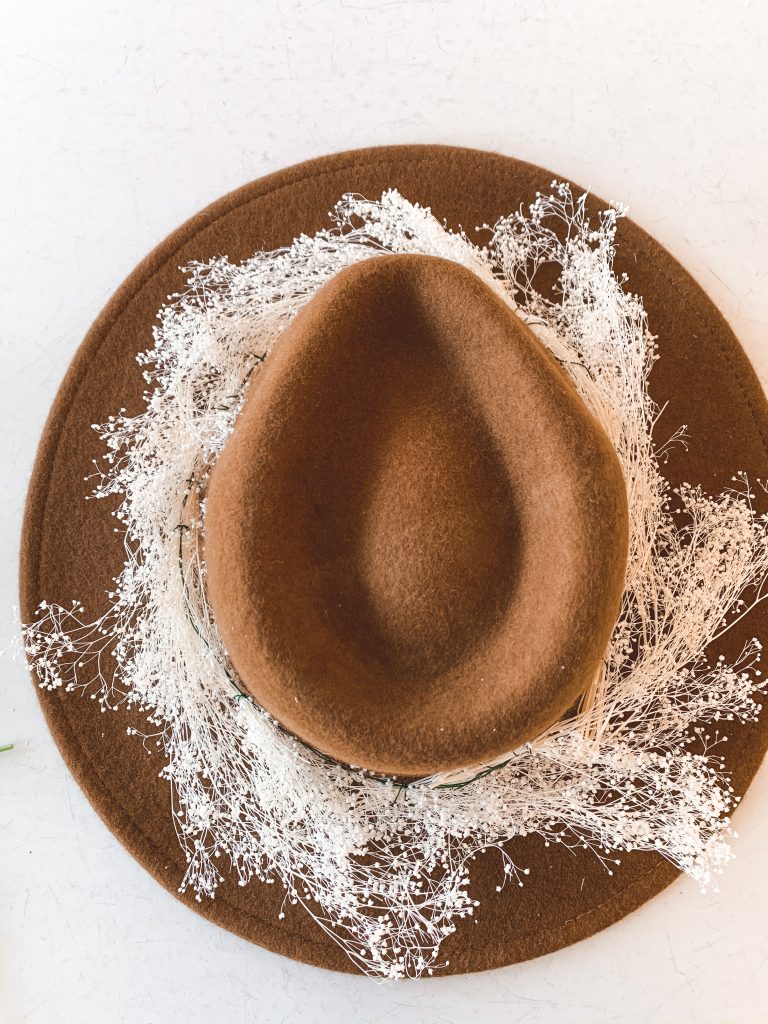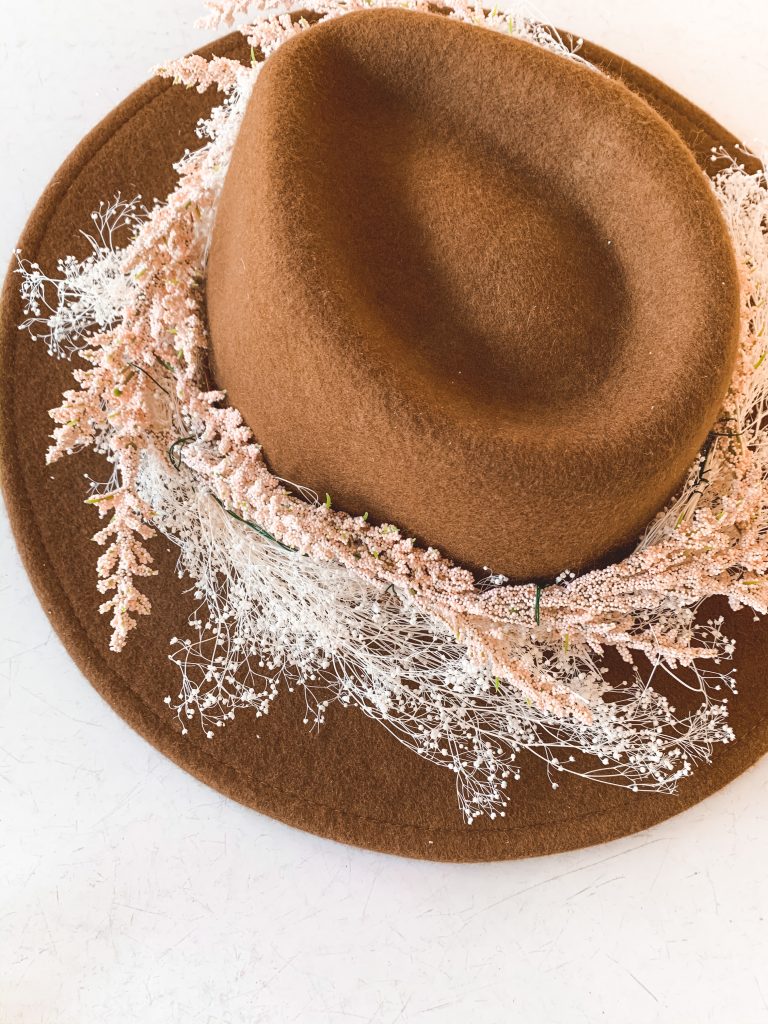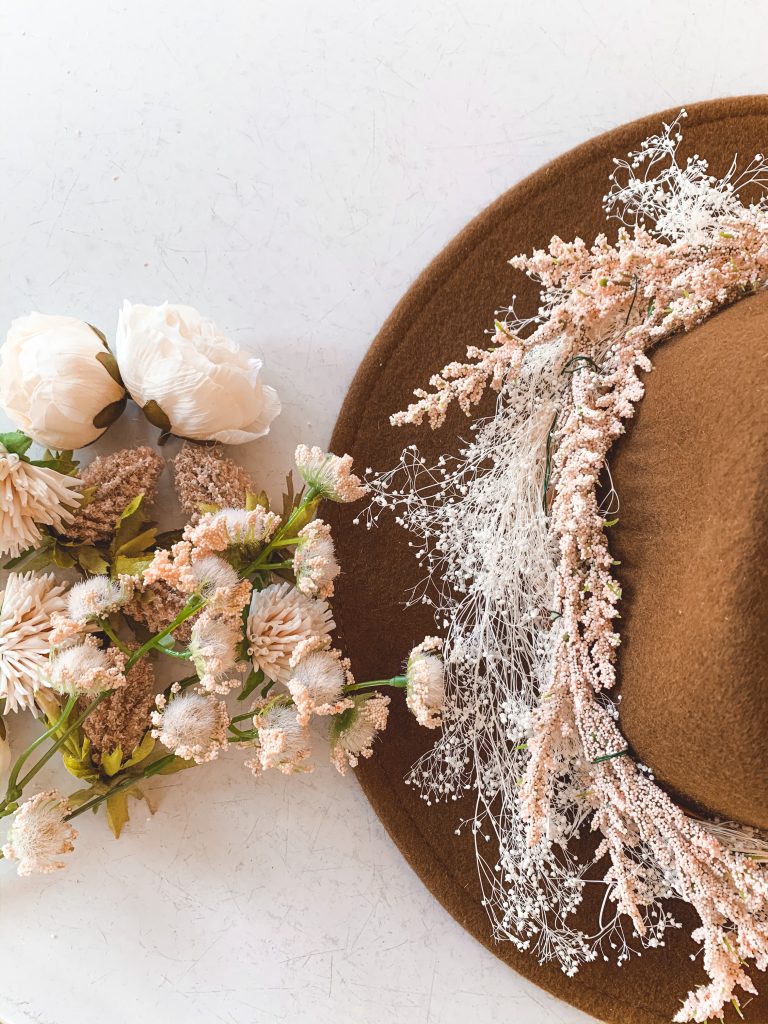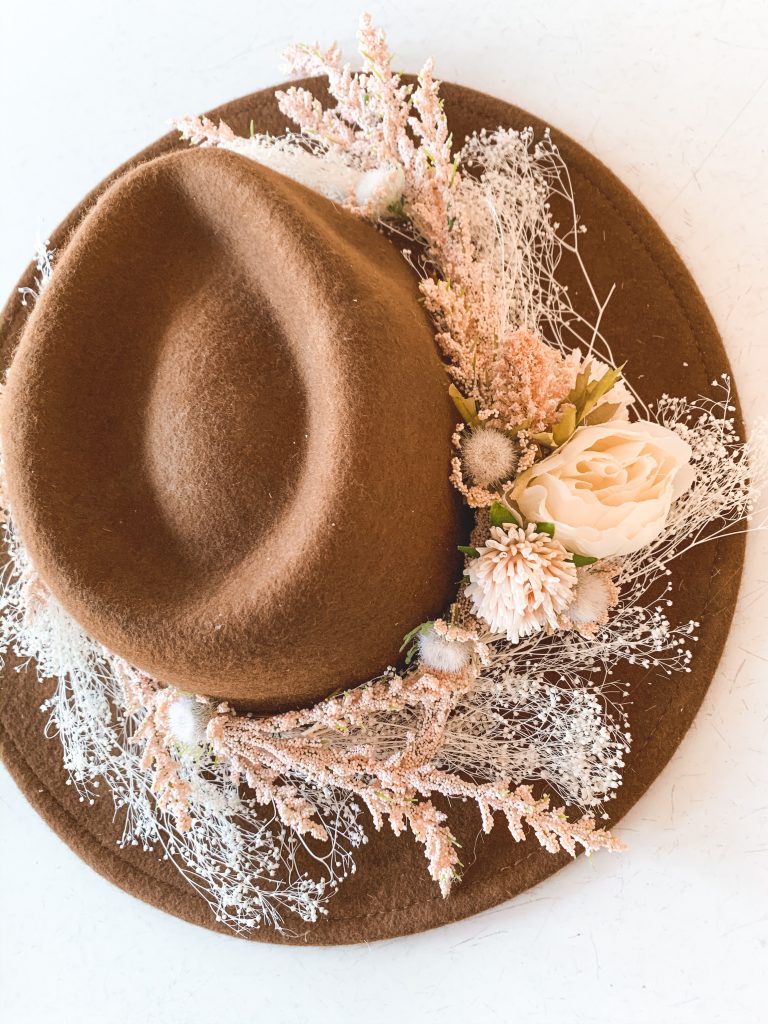 This post contains affiliate links.