This holiday season will be a little different for James and I. We will not be able to make it home to spend time with our families this season, which is obviously a downer. Who doesn't love sharing a big meal and bottle of bubbly with family? Not having the luxury of going home really spurred us to concentrate on what we do have, and what we have to look forward to this holiday season and through 2019.
With a busy year coming up, there was a lot to reflect on. In January, James and I will be moving to Michigan. In March, we will get married. Don't ask me who moves a month before their wedding, because my answer will be "us!" We have been lucky enough to move quite a few times in the past couple years and have learned to embrace the changes that moving to new places brings. So far, moving for us has meant pursuing academic dreams and moving on to better job opportunities.
With the impending move, we decided to cut back on our Christmas set up this year. Normally I have a live tree up the day November hits. I can't get enough of the fresh tree smell that fills the house. I then force James to watch all the Christmas movies, snuggle under 100 blankets, drink holiday drinks and partake in decorating the house with me. 

To save money and concentrate on using what we have, this year, we decided to go with a tiny artificial tree and decorate with the boho style items we already had in our house. This let me flex my creative muscles for an afternoon and gave me a head start on purging items from our closet that we no longer use.
Just because I'm cutting back on decor, doesn't mean I'm cutting back on any of the holiday cheer. Holiday tunes on the record player and a festive drink made for an afternoon of fun. Lots of Archie snuggles ensued, per usual.



Of course, I couldn't pass on almost a whole Sunday spent in pajamas, and these describe my attitude towards gifting perfectly. Anyone else love giving gifts more than they like receiving? (Me, totally me.)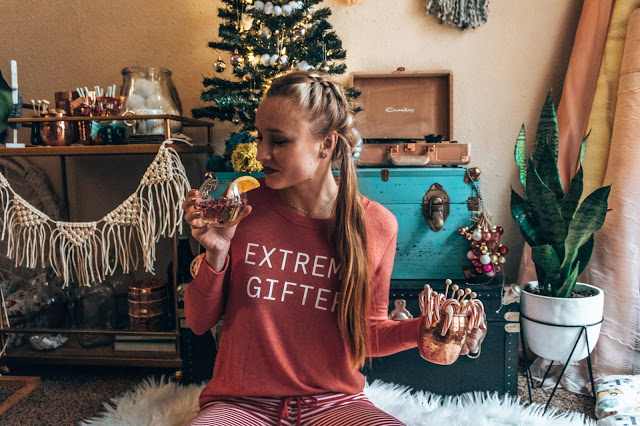 I love our little holiday set up this year. You can certainly find me sipping cocoa and hoping for a snow day in the near future. Head over to our latest Instagram post and tell us your favorite holiday tradition!
SHOP THIS POST

This post contains affiliate links that I my earn a small commission from.