In this post we will dig into our trip to Arkansas. We went on this tripn to dig for quartz crystals and scope out the best places for future mining. We went into this venture without any previous connections in the area, so we really had to search on our own to find the hidden gems.
During our research we found two places that really stood out and were close enough together that it wouldn't take us the better part of the day to get from one to the other.
We got in the car and drove east towards Arkansas form Oklahoma. When you cross the Oklahoma state line into Arkansas, the scenery instantly changes and turns to beautiful forest with hills and winding roads.
Arkansas is one of the most well-known locations to search for quartz. Since we had never dug in this part of the country for this type of quartz, we decided to be prepared for some hard rock digging, similar to the Dolomite you would find Herkimer diamonds in. With that in mind, we brought hand tools like our trusty pinch point crowbar, a couple of hand hammers, a sledge hammer, safety gear, garden picks and a few chisels. We have gathered these tools from a medley of spots, some even second hand from expert diggers.
When we arrived in Arkansas, we checked into quaint motel owned by a local family. When we went downstairs for breakfast the next morning, we were thrilled to see other couples and small groups of people who were getting an early start to their digging day as well. We chatted and all shared tips about the best local spots for maximum quartz payout. This, combined with a bowl of cinnamon toast crunch (real throwback there), had us giddy to start our trek.
The first place we went to had a few advertisements around town and even a crystal shop you could visit to pick up your digging ticket. We figured this would be the more touristy place, but an easy place to start.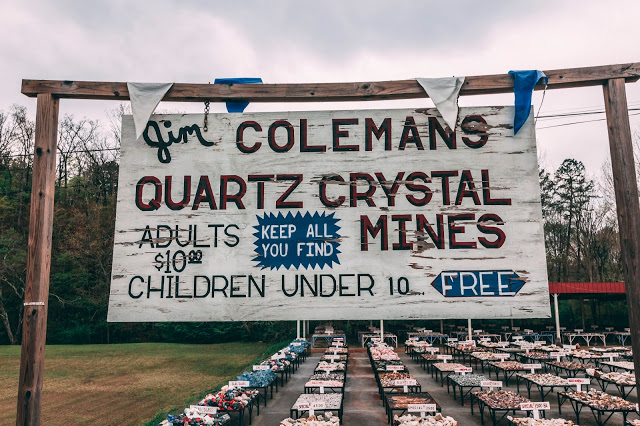 This first mine is known to produce some amazing and massive quartz crystals, but all these are found in the commercial pit, which you are not allowed to go into for safety reasons. Since this site was purely tailings from the mine in soft clay-like dirt, no heavy tools were needed. To dig this site we mostly used gloves and small gardening picks for excavation here.
At the end of our day we walked away with a few good pieces but nothing that blew our socks off. We dug here for a few hours but did not find much. After talking with some regulars, they informed us that these particular places hire people to dig through the mine tailings, which means you can find some very high quality quartz, but they will most likely be fragmented or small.

After this initial dig we went back to the hotel for some research and some much needed hot coffee. We were determined to find a place that let us do what we truly love to do, dig into the actual crystal producing formation. There's just something sort of magical about unearthing a crystal from its formation and thinking that it could be the first time it has seen the light of day and that you are the first person to find it. It usually requires a lot of extra work, but just thinking that the next little layer you crack off the wall could reveal a huge pocket of perfect crystals makes it all worth it. I like to think of it as a little natural treasure chest that's all yours.
With all this in mind, we landed on the Twin Creek Crystal Mine as out next dig site. We found this place online after digging thorough a few forums.
Excited to get out there and explore this new place, we woke early the next day to grab some food from the lobby and headed out. We love being the first people on site so we can pick our ideal digging claim for the day. We followed some directions that were piecemealed from the forums we searched and we eventually found ourselves on a tiny, unpaved mountain road. We followed the road until we finally saw a small sign that pointed us in the right direction. After about twenty more minutes of driving through small streams and VERY bumpy roads, we got to the top of the mountain.