Two summers ago (2016) James's family and I took a camping trip to Curry Hammock State Park in the Florida Keys. I will preface this post by stating that this is the most BEAUTIFUL camp site we have ever been to. From the scenery to the cleanliness, it's perfection.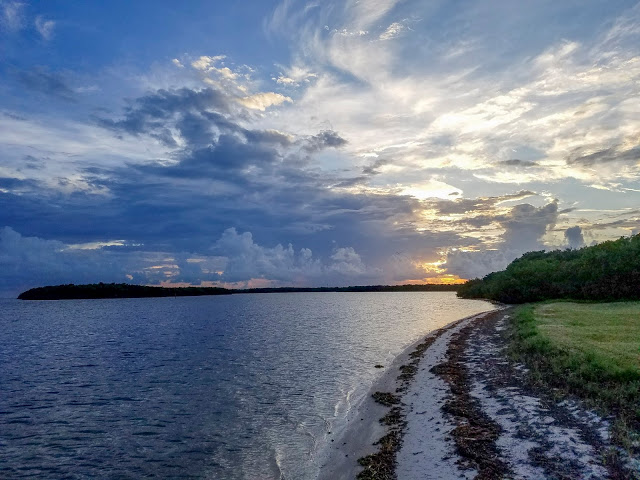 You can even spot some wildlife right in your camp site. James spotted this little camouflaged guy within the first five minutes of our
arrival. Can you spot him?
For this trip we used our camp site as our home base and took day trips. You can go on local chartered fishing trips, snorkeling, shopping, boating and eat all of the fresh seafood you can stand. Do not miss out on the homemade key lime pie. It's a local specialty and you can even get in dipped in chocolate.
One of our day trips was to Key West. We walked the streets and took in the historical homes and beachy scenery. There are eclectic local shops mixed with the more touristy attractions. This is a popular spot to eat, drink and party.
TIP 1: Check when Florida colleges have spring break and avoid Key West at this time. It gets BUSY.
TIP 2: We discovered on this trip that ginger gum is a lifesaver to those prone to motion sickness. Leslie used this for both the car trip and boat ride. It truly saved her trip and allowed her to enjoy the beautiful surroundings.
We recommend grabbing some Cuban coffee and spending your afternoon sampling the local flavor.
Away from the more touristy areas, the Florida Keys have some of the most beautiful nature and wildlife to be explored. Numerous bike paths and excursions show you what this place has to offer. If you're feeling extra adventurous, you can even take a bike ride over the famous seven-mile bridge!
The overall mindset of the Florida Keys is relaxed and it can be felt as soon as you step foot onto one of the sandy beaches or take a stroll down the historical streets. There is truly something for everyone in this unique part of the country. We hope you will share your favorite part of the Florida Keys with us on our last Instagram post!
This post contains affiliate links that I may make a small commission from.