Welcome to Week 6 of the One Room Challenge! Just two more weeks until the reveal at Week 8! The nursery is coming together and I'm so excited to finally share some progress pictures with you that resemble a livable space.

This week we painted and were able to move the rug, crib and a few smaller pieces to their spots. You all saw the crib in Week 4, but the rug really brought it all together for me with the different colors. Below are some tips for choosing a rug.
Tips for Choosing a Rug
Size matters in your space

Always go for the larger sized rug for your space rather than the smaller option if you're stuck between sizes.
A rug that's too small will make the room feel forced and cluttered instead of pulling your furniture together and completing the look.
For a room with several pieces of larger furniture like a living room or nursery, aim to have the front legs of the furniture on the rug by a few inches. I am for at least six inches, but do what feels right to you.

Placement

Keep the orientation of the rug consistent with the orientation of the room. This will let the eye flow with your design rather than produce a more jarring experience when you enter a room.

Pile height and density

Pile height is how high the fibers come up from the base of the rug. The longer the pile height, the shaggier the rug.
Since this rug will be used in a relatively high traffic space that will need to be cleaned often, we went with a low pile height with fibers that are densely packed.
Tightly packed fibers with a short pile height equals a rug that'll be easier to vacuum and longer lasting.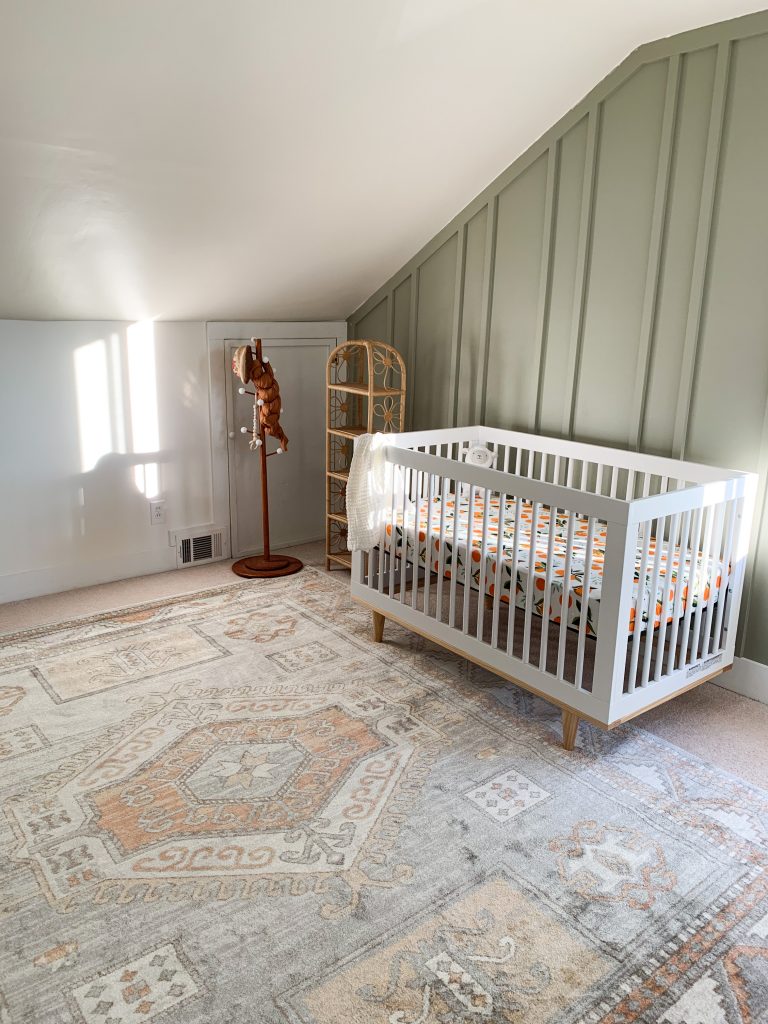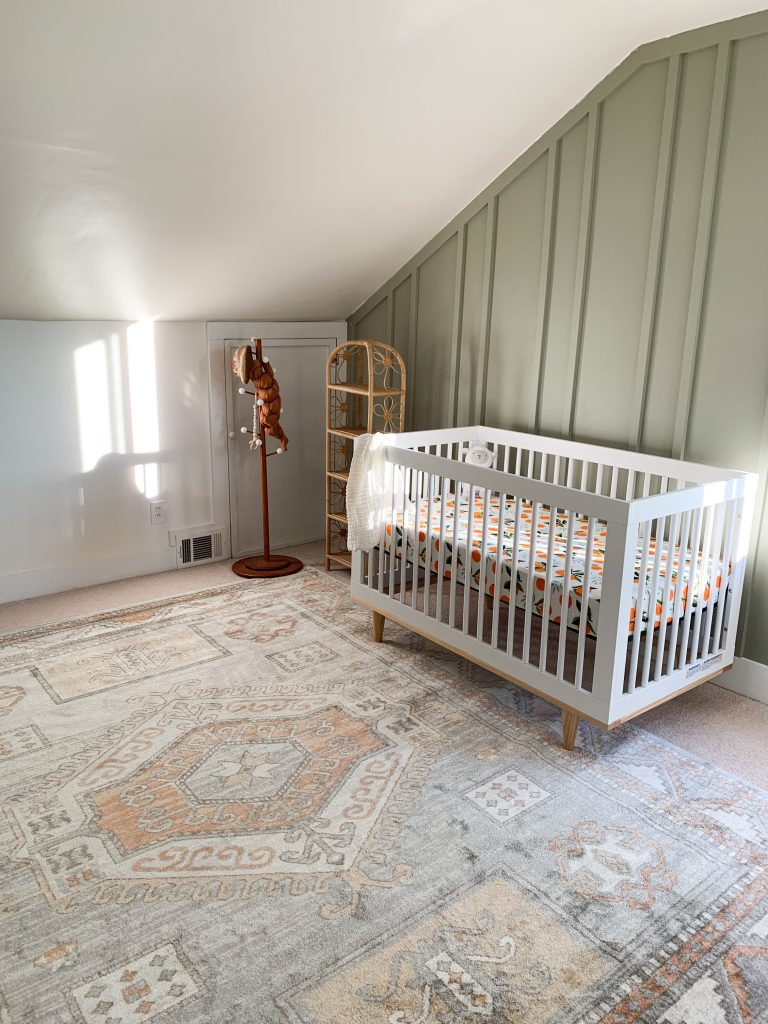 This is not the final spot for the rattan shelf, but it's being staged there for now. I suspect I won't have the final configuration completed until baby has lived in there for a bit and we know what functions best for our developed routine.
Expecting a baby and trying to design a nursery at the same time has really given me a whole new respect for parents and how they manage to get everything done! I'm not quite sure how they do it, but I'm certain it's a superpower gained when you are caring for another human.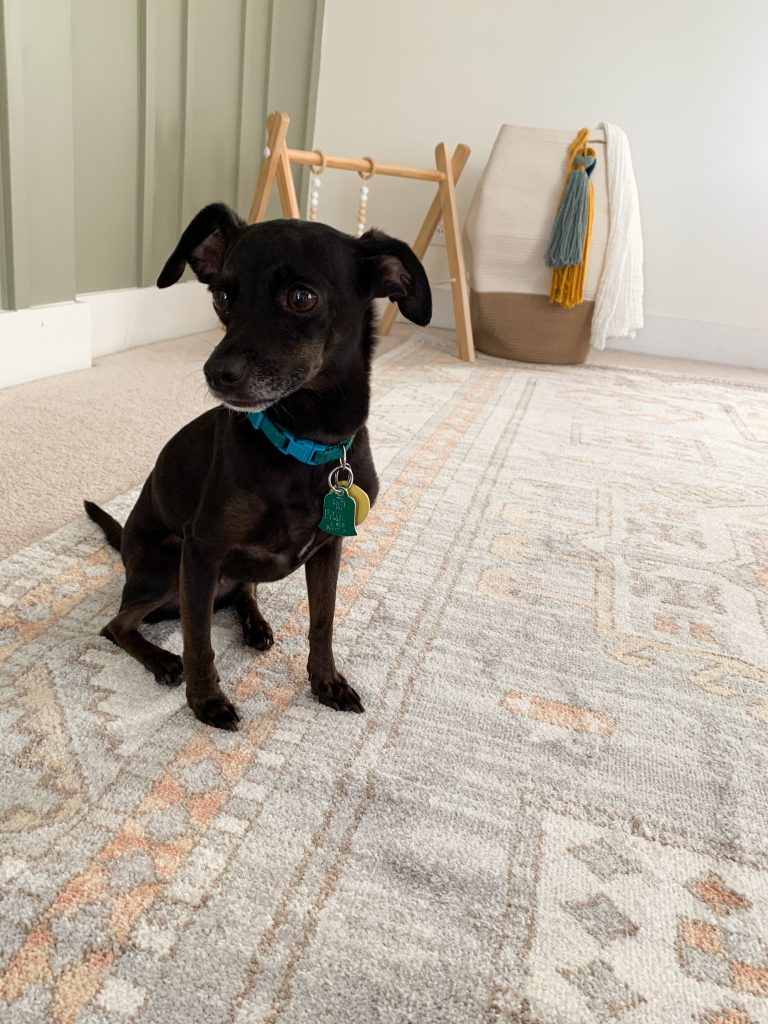 James is out of town all next week for work which means I'll be flying solo on this project!
Still to accomplish:
Finish the changing table/ dresser and move into its spot

Change the knobs and construct changing table portion

Figure out how we want to organize baby clothes/ supplies
Organize the closet with

baby items

We did not redo the shelving inside the closet, but it's something we will consider in the future

Hang curtain rod and curtains
Finish up a few decor DIYs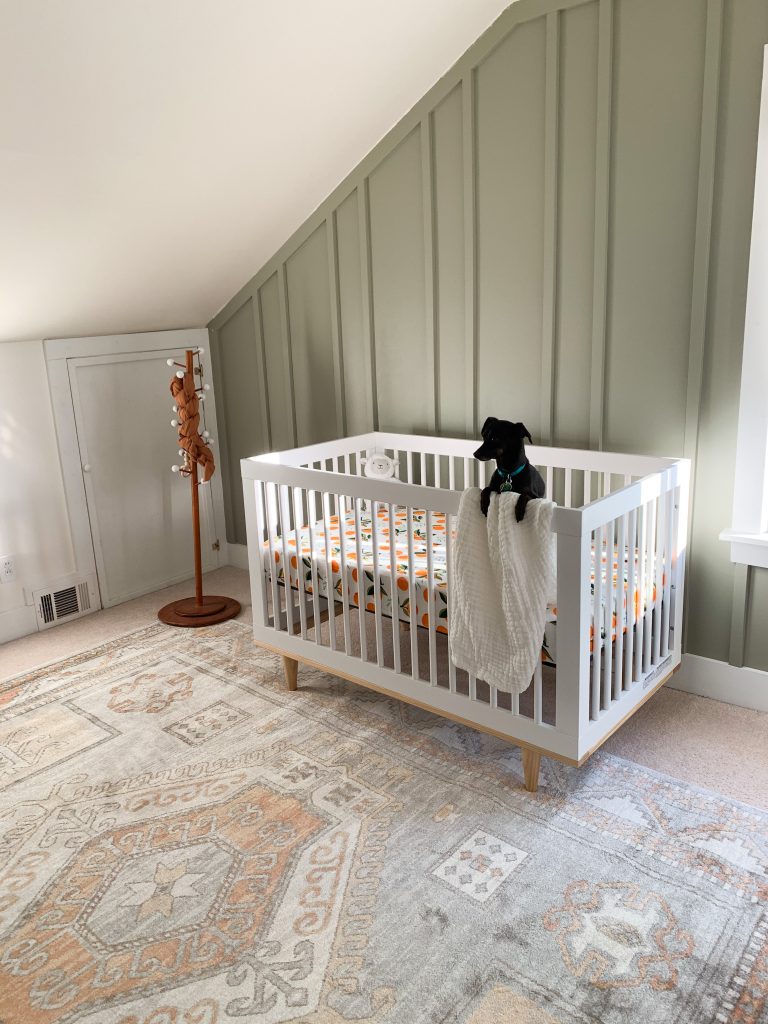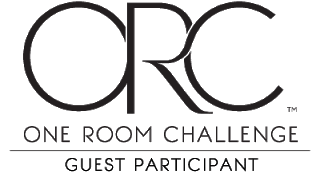 Be sure to check out the rest of the Week 6 One Room Challenge updates!