If you're reading this, thank you so much for following James and I along on this eight week journey! This was my first time participating in the One Room Challenge and it was a very rewarding experience. I'm sitting here 38.5 weeks pregnant and feeling every bit of it. We've spent a lot of time in the nursery and I'm so happy with the results.

The creation of our boy's nursery started and wrapped up all during very uncertain times. As first time parents-to-be, we navigated the last nine months with lots of skeptical optimism while we looked forward to meeting our first born.
Design Goals
Our goal for this project was to create a nursery that would be practical for a baby but would also be able to be converted to a toddler room or a nursery for a second child in the future.

I do feel like we accomplished that goal. The wall work we did with the faux board and batten and the color can be easily decorated or updated to use at a later date for a second child.

Although we kept the style of the room to earth tones and textures we personally like, I wanted to make sure the room still felt like it could host the imagination of a child. We added in some color and a little whimsy. We will only add to this as Baby T. gets older and has more of an opinion on what he likes and the activities he enjoys.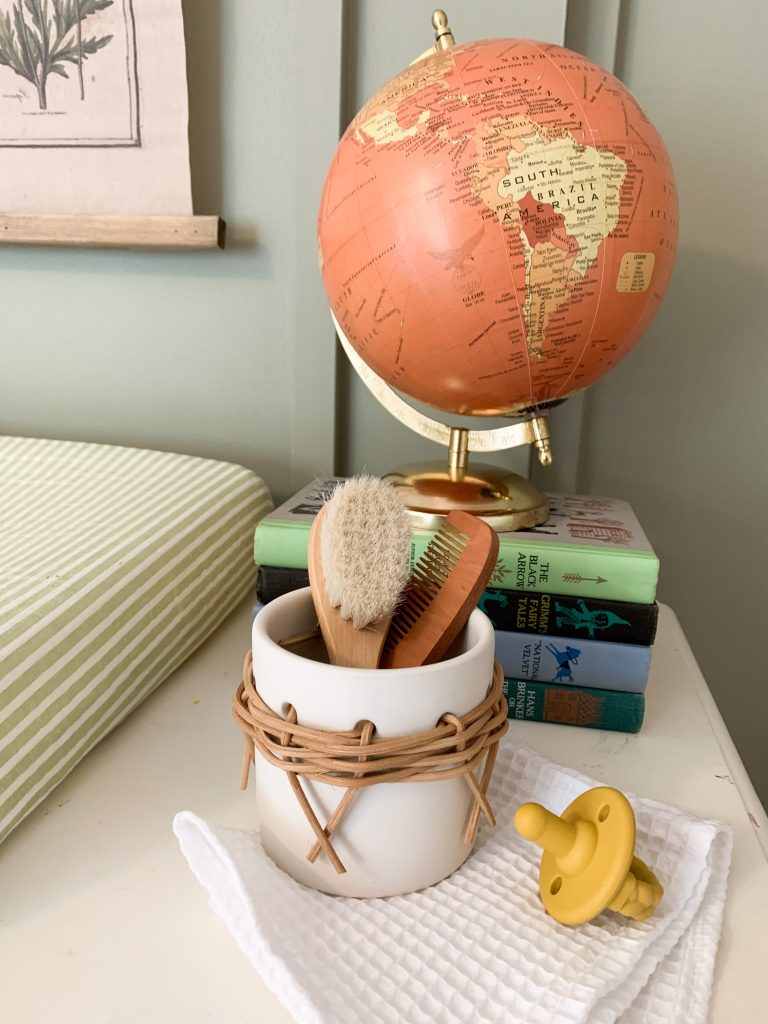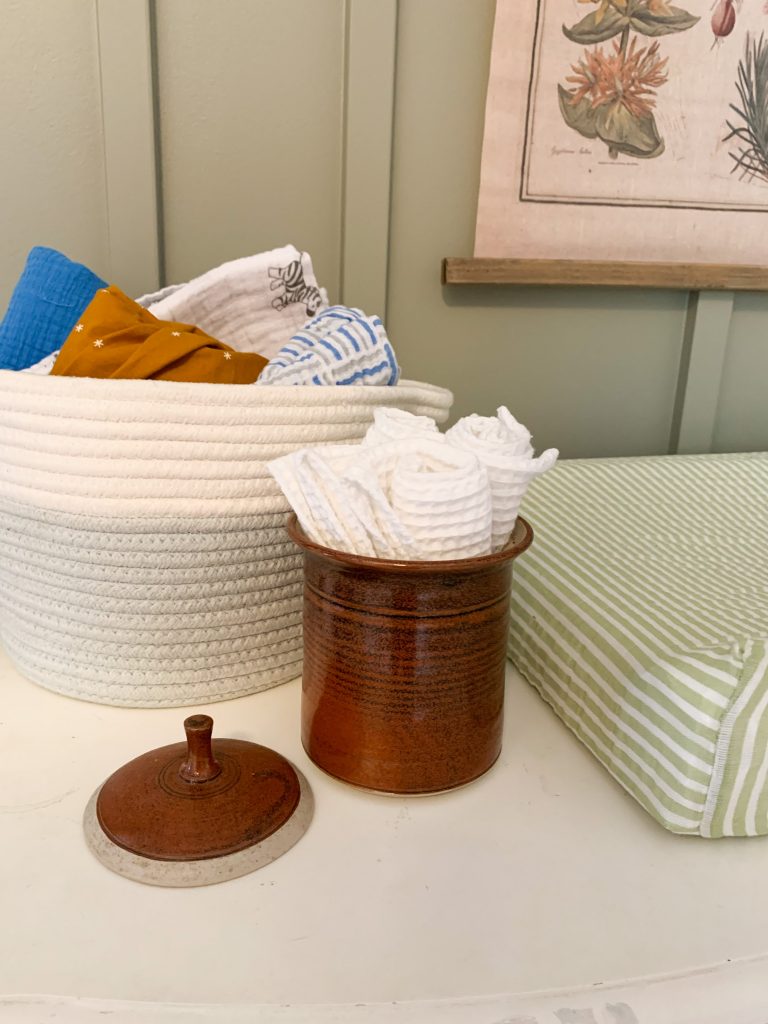 We tried to keep the decor on the changing table to mostly storage and functional pieces, but I couldn't resist this globe that perfectly matched and added some height to the dresser. I know it might not be practical forever, but I'll leave it there for as long as it's safe.
As we discussed before, most of the furniture for this space was reused from our home or thrifted. The crib was a gift from my parents and our generous family and friends gifted us lots of baby supplies, which we are extremely grateful for.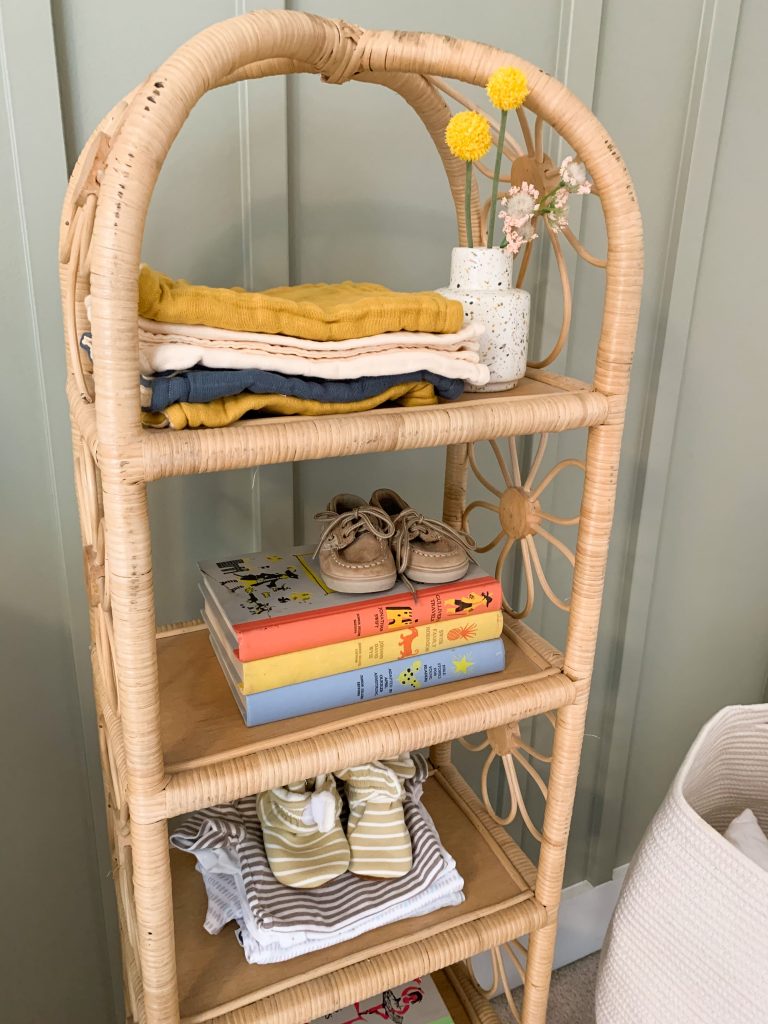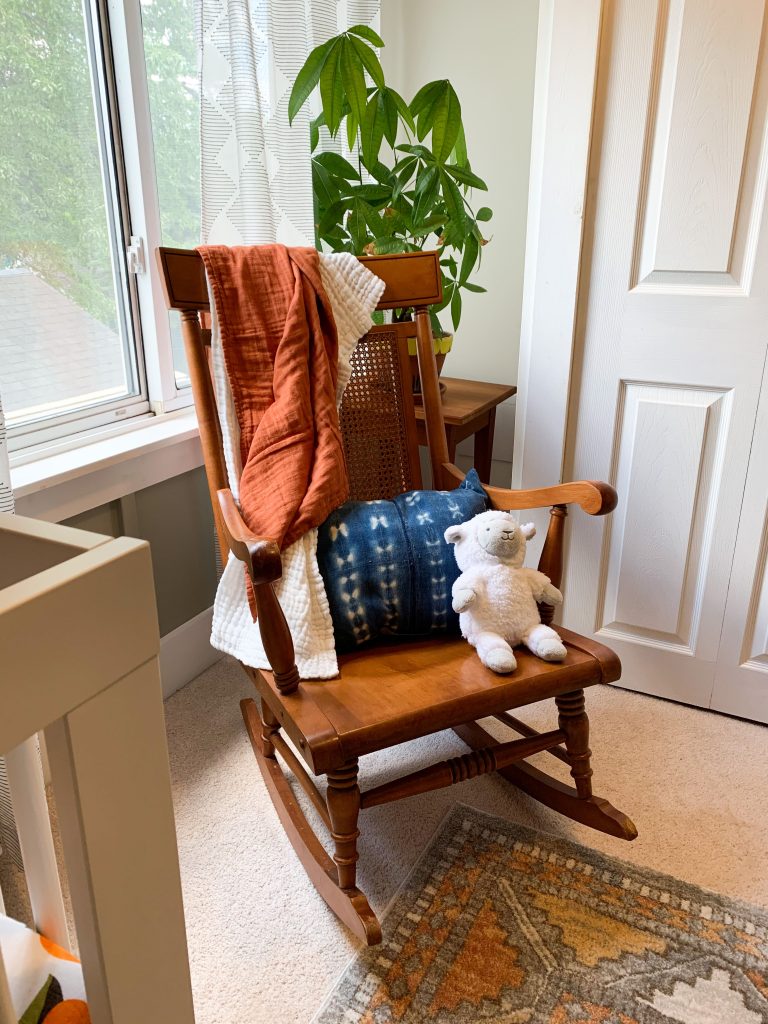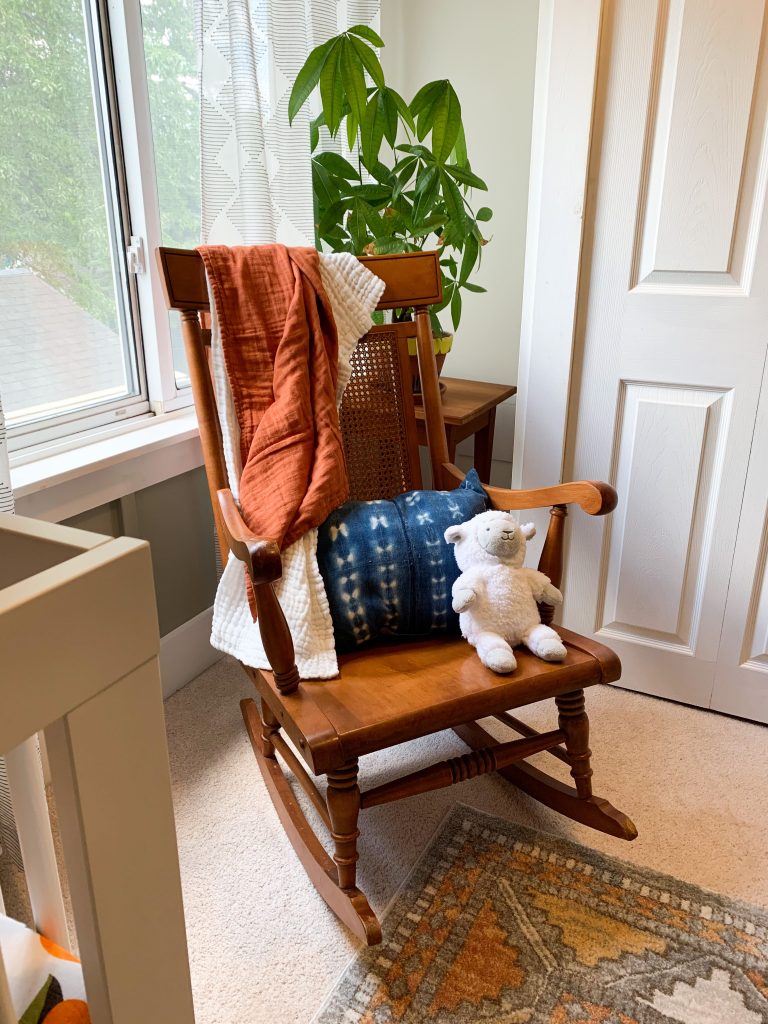 This rocker is from one of James's aunts and we brought it with us from Oklahoma. The pillow was a Christmas gift from a friend, and the gorgeous blanked was handmade by my sister. The personal touches in the space bring extra meaning and make me appreciate the space so much more.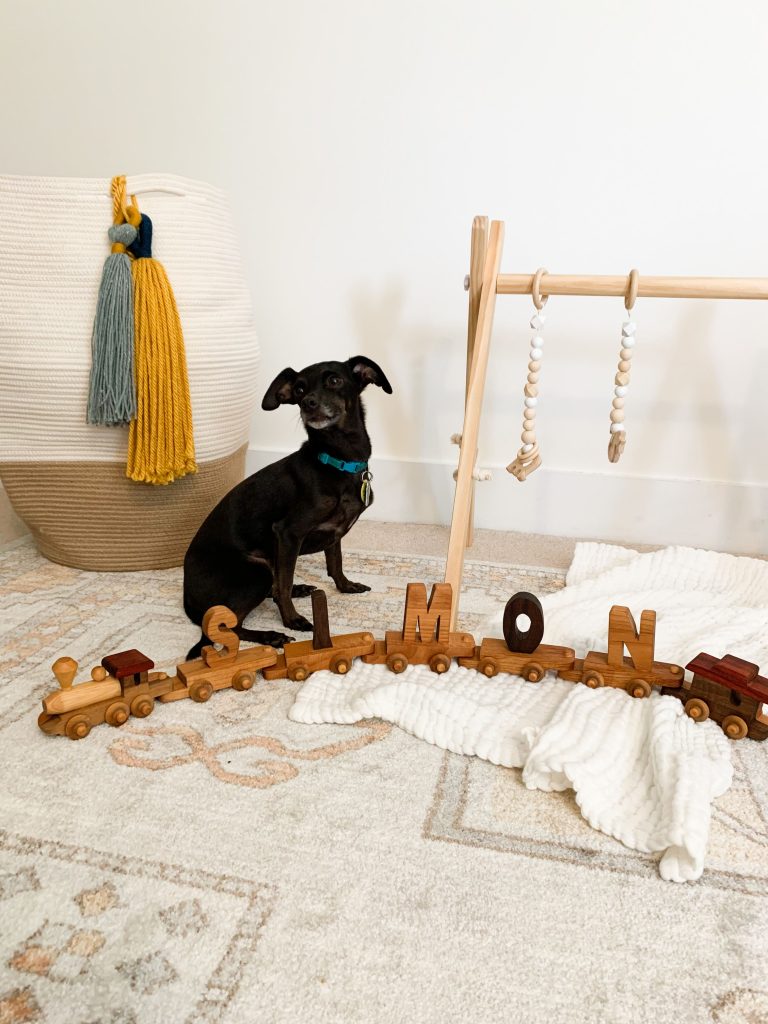 This handmade wooden train was one of my favorite pieces that I decided to purchase. It added such a personal touch and I hope Simon ends up keeping it for a long time to come. And yep, Simon is the name we chose for our little guy, and we can't wait to meet him!
Lessons Learned
Never plan on a project going to plan when you're working with an older house.
Your first instincts are usually correct when it comes to design. I already thought that this was true, but designing a space that has a lot of emotions connected to it really confirmed this for me.
Picking up an intimidating power tool and learning to use it correctly makes the end of a project feel that much more satisfying.
Splurge on the expensive paint for an already difficult space. You'll love yourself later for only having to deal with a single coat.
Do a little every day, even if that means just perusing FB Marketplace for a small item you need. Eight weeks was plenty of time to complete the nursery, but with a small budget it took a while to source things.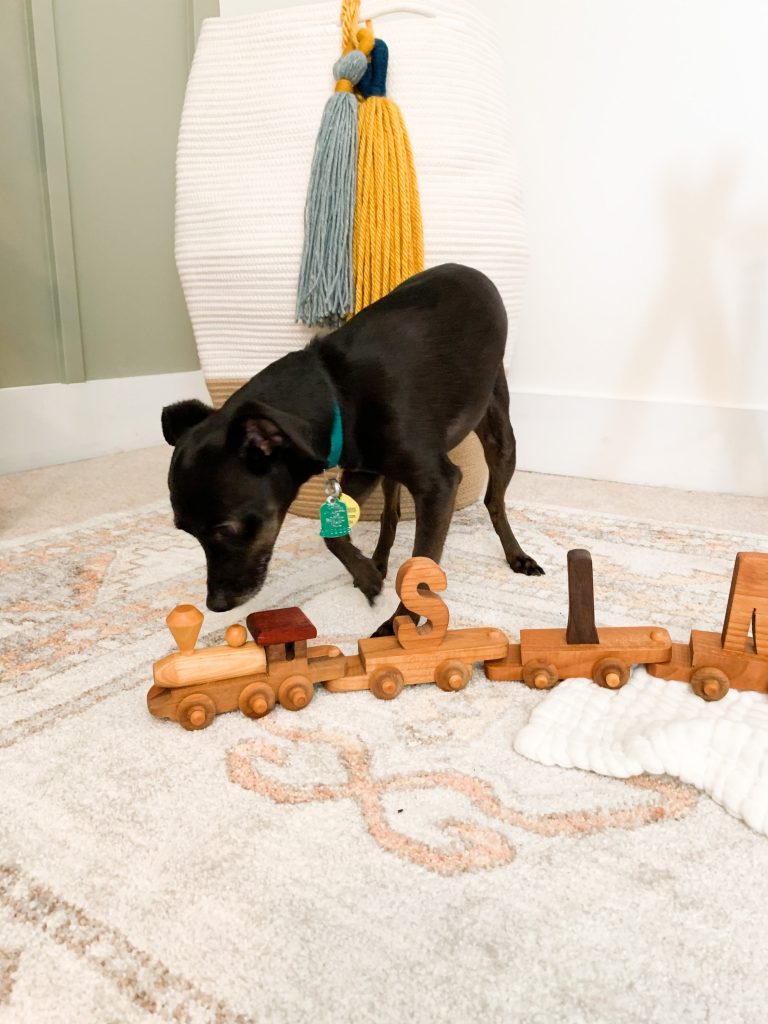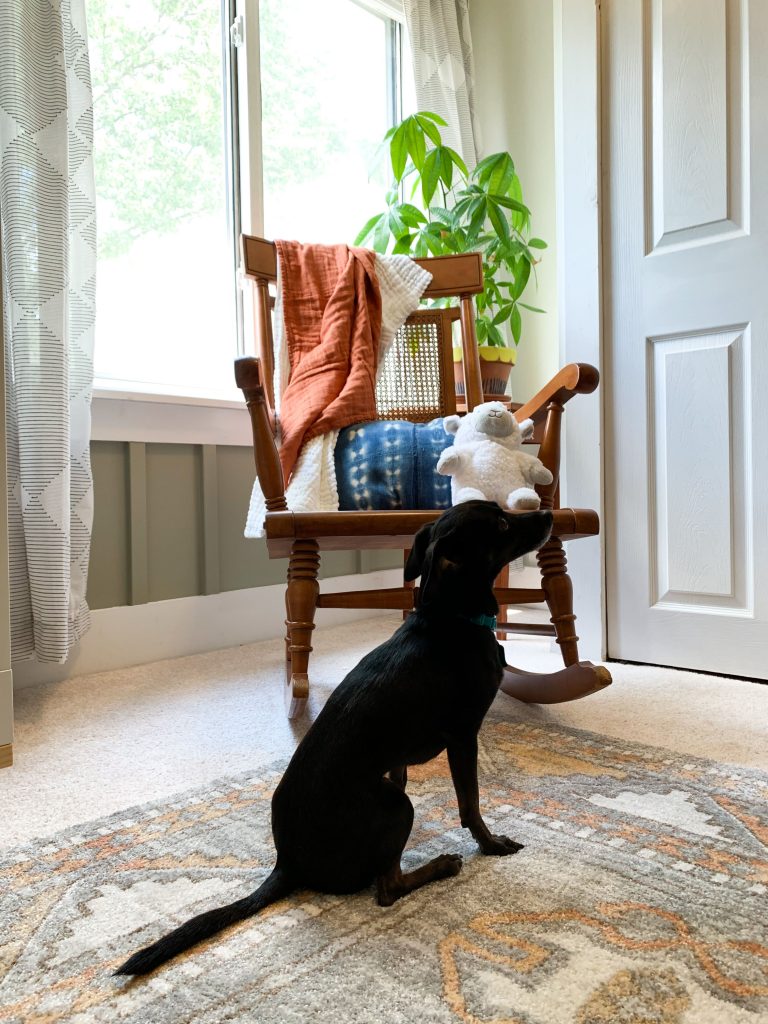 As usual, Archie had to be the center of attention. I'm so excited for Simon to grow up having Archie as his trusty sidekick.
To check out the progress of the nursery, you can find weeks 1-7 of my One Room Challenge here!

Thank you so much for following along, and be sure to check out all the finished rooms from both the featured and guest designers for the Spring 2020 One Room Challenge