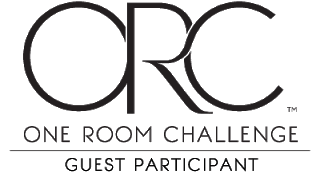 I am participating in the Spring 2020 One Room Challenge! This means that I'll be posting updates on Baby T's nursery over an eight week series.
If you're new here, my husband James and I purchased our first home in the Fall of 2019 and we are expecting our first babe this July! Our home is just about 100 years old and we are trying to breathe some of our personality into it while preserving the charm. If you click around on my site, you'll see a bunch of home DIY and decor, with tons of dog (Archie) pics sprinkled in. I dedicate 99% of my free time to publishing on this little blog, and I love sharing this part of my life with you all.
With Baby T due in July, my timeline for this is getting shorter each day! This challenge is going to hold me accountable and hopefully inspire others who are looking to do the same. I'll be working on an almost zero dollar budget for this project, so I'll also be sharing lots of DIYs along the way.
WEEK 1- The Plan
COLORS
You know I love a good boho earthy color palette mixed with lots of natural textures. For this room I'm giving it more of a pop of color than I normally do while keeping my love for earth tones at heart. The color we are using for the walls is Behr Jungle Camouflage. We will also be adding a super special detail to the walls- but that's a secret for now. You can find that on my post for Week 2 next Thursday.
FURNITURE
My goal with furnishing this room is to use over 75%
thrifted pieces
or pieces we already own. It's a well-known fact that I can't pass up a good estate sale and love planning our weekend around where the good finds are! Baby T will definitely be joining me on my thrifting adventures this fall. (Buckle up, little guy.)
I have plans to modify a few pieces of furniture we already have to make them more conducive to the nursery, and you bet I'll take you all along for the ride.
THE BEFORE
Here are the "Before" pictures for the bedroom we are turning into the nursery.
CHALLENGES
Like I mentioned before, our house is almost a century old, so that presents a few challenges in itself when it comes to reno projects.
The walls are far from square and very rippled and rounded. This means lots of extra elbow grease on our part.
An owner who lived in the home prior to us did some extremely bold wall designs that involved a ton of texture. When they painted over it, they didn't sand at all, so we are left with the choice to skim coat the whole wall, or do a crazy amount of wall scraping to prep them for fresh paint.
The room is basically the attic, so we are designing the room around the slanted ceiling. It gives the room a little bit of a loft vibe.

That's all for this week! Be sure to head over to the 
ORC link-up
to check out all the other amazing participants, check in every
Thursday for progress updates, and get excited for the big reveal on June 25th!