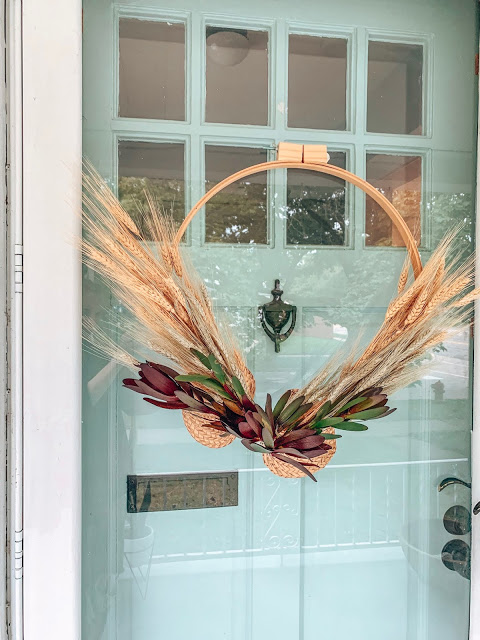 You may have seen on my Insta that we recently became home owners! We were so grateful we were are in a position where we were able to buy a home, and excited about all the projects that come with a house!
BUT WOW HOW THE TABLES HAVE TURNED in the last few weeks. Lots of new home repairs suddenly came up. Hello standing water in the basement and totally new roof…
Amongst the chaos I just needed to have one thing that made the house feel semi put together.
Fast forward a few days and there I was standing in an overly crowded Trader Joes in my leggings and work out tank, just like the 9,8079 people in there, and I perused the floral section per usual.
Didn't have any big revelations here, just snatched up some fall wheat filler and pretty stems and left satisfied after grabbing my butternut squash mac and cheese.
OK, I'll get to the point.
HOW TO MAKE A BOHO FALL WREATH
SUPPLIES:
-Dried florals
-Woven fans or something else that shows off your personality (mine were thrifted but you can find them on Etsy.)
-Embroidery hoop (thrifted)
-Glue gun and glue
-String or floral wire
– Hairspray
HOW TO MAKE YOUR WREATH
1. Gather your supplies.
2. Lay out your florals to decide on your design.
3. Bundle your florals with string or floral wire.
4. Attach your bundles with floral wire or hot glue.
5. Adjust until you're happy!
6. Take your pretty little wreath outside and spray it down with hairspray. This will keep it in place and help it last longer.
7. Hang on your door with a command hook and enjoy!
Find my spring update to this
hoop wreath here!
I hope this shows how easy and casual making a wreath can be! Just get creative and add some of your own personality.
Share all of your fall pretties with me over on Insta by tagging me
@chasingcozyblog
and using the hashtag #chasingcozy!
PIN THIS